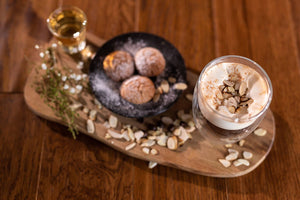 Amaretto Coffee Recipe
Amaretto is an almond-flavoured, sweet liquor that can be made from a variety of fruit or nuts such as apricot kernels, peach stones or almonds. Amaretto is a fan-favourite for many cocktails and dessert drinks as well as a prime ingredient in lots of home baking.
The sugary sweetness that can usually be found in Amaretto places it in a good position to mix well with coffee, as this sweetness balances the natural bitterness of coffee grounds, therefore accentuating the great flavours of both.
This Amaretto coffee recipe, with the optional brandy kick, is perfect to share with friends and family during the colder months as the whipped cream adds to this indulgent combination to make the drink creamier, thicker and more delicious.
This coffee recipe is a classic for indulging sweeter, nutty flavours with richer toned coffee and the best thing about it is its simplicity. Taking only a couple of minutes to make, this recipe is low-effort but high-reward, with the final taste as yummy as if you had slaved over it for hours.
Amaretto coffee is a favourite of many coffee drinkers, and not just because it works as a great ending to a fun evening. The flavours of Amaretto, light and nutty with the hint of fruit – depending on the brand bought – won't feel as heavy as some other alcoholic coffees can.
This means you get to enjoy the delicious booziness of Amaretto coffee without feeling the weightiness of other alcoholic coffees, for example, Irish Cream Coffee, which, whilst delicious can lead to cosy naps and relaxed lounging!
Craving the sweetness of Amaretto but not currently stocking the liqueur in your house? Why not try Coffee-Direct's Amaretto flavoured coffee. Offering the same strong aromas and indulgent flavours of the traditional Italian alcohol, this smooth and mellow coffee is an excellent choice for your favourite filter drinks.
Amaretto is wonderful for rounding off the strength and acidity of good coffee and this indulgent flavoured coffee offers you a balanced and delicious combination of flavours that you won't be able to get enough of.
Equipment
1 cafetière
1 kettle
1 mug or heat proof glass
Ingredients
2 tablespoons coffee grounds
125ml boiling water
30ml amaretto or almond extract
Whipped cream
15ml brandy (optional)
Grated nutmeg (optional)
Recipe
Add two tablespoons of coffee grounds to your cafetière.
Pour 125ml boiling water into your cafetière and place the lid on top.

Leave coffee to brew for four minutes.
Pour 30ml of amaretto or almond extract into your mug or glass.

If you're looking for an extra kick, add 15ml of brandy into the glass also.
Press the coffee once brewed and pour into your mug or glass.

Stir the coffee, amaretto and brandy together.
Layer whipped cream on top of the coffee mixture.
If using, sprinkle grated nutmeg over the top of the whipped cream.
Serve and enjoy.
Quick Links
Related products
As Featured In
Our recipes and coffee tips have been featured in the following publications:
---