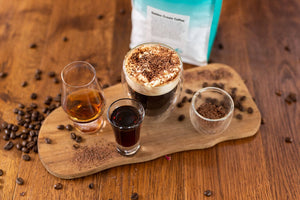 Brandy Coffee Recipe
Brandy and coffee are a match made in heaven; with their complimentary flavours and deep, rich notes this alcoholic coffee recipe is a delicious coffee experience that packs a heavy punch. Served in bars as a slightly more complex cocktail known as a Café Royale (which often involves the brandy being set alight before being served), this brandy coffee recipe reduces the process down to simple steps, allowing for a brandy coffee that works perfectly as an after-dinner drink. If you decide to top your brandy coffee with whipped cream and chocolate shavings, this recipe can also serve as a dessert all of its own, as the cream will thicken the coffee and the chocolate will add a touch of sweetness. The natural bitter flavours of the coffee is the perfect complement to the fruity, sweet flavours of the brandy. Working beautifully alongside one another, these flavours create a wonderfully warming and tempting drink that will keep you cosy in even the coldest weather. Brandy is a distilled wine with a high alcohol content that's aged in wooden casks. A sweet spirit, full of rich, woody fragrances and flavours, brandy works so well in coffee because it also combines easily with a mix of other flavours allowing you to mix and match spices and sweetenings until you find the brandy coffee you enjoy the most. Coffee-Direct's brandy flavoured coffee is great for an after-meal drink, with it's balance of light flavours of cognac and brandy. The brandy coffee is made with mild strength beans that would work as lovely filter coffees and are especially good for cafetière use.
Equipment
1 cafetière
1 kettle
1 mug or heat proof glass
Ingredients
2 tablespoons coffee grounds
125ml boiling water
30ml coffee liqueur
30ml brandy
15ml chocolate liqueur
Whipped cream (optional)
Chocolate shavings (optional)
Recipe
Add two tablespoons of coffee grounds to your cafetière.

Pour 125ml boiling water into your cafetière and place the lid on top.

Leave coffee to brew for four minutes.
Press your coffee once brewed and pour into the mug or glass.

Pour in 30ml coffee liqueur, 30ml brandy and 15ml of chocolate liqueur into the mug or glass and stir well.

Layer whipped cream on top of the coffee, if using.

Sprinkle the chocolate shavings over the whipped cream or coffee, if using.
Serve and enjoy.
Quick Links
Related products
As Featured In
Our recipes and coffee tips have been featured in the following publications:
---