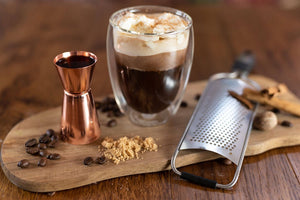 Rum Coffee Recipe
This wonderful buttered coffee is rich with your favourite spices and gains its mouth-watering smoothness from your choice of dark rum. Make sure to whip out this rum coffee recipe as an after-dinner dessert, served best hot in the darker months for a boost of warmth and seasonal feel.
If you're a fan of alcoholic coffees, this rum coffee recipe is a must-have for your recipe book. Rum and coffee are hugely complementary to one another and mix together to create a fantastic smooth and warming blended drink.
Rum is made from fermenting sugarcane molasses or sugarcane juice and is usually aged in oak barrels, but you can buy rums that are either unaged or have only aged for a short amount of time. The innate sugariness of rum invokes a sense of the decadent and makes it a liquor perfect for pairing with coffee, as the sweetness of the rum – also further spiced in this recipe – delicately undercuts the bitter notes of the coffee.
Spiced rum has become extremely popular within the last few years and this recipe makes it easy to see why. Cinnamon, clove, nutmeg, vanilla and allspice are spices most typically found in any spiced rum, and their addition to this recipe is useful for drawing out the dominant notes found in both your choice of rum and your choice of coffee.
The warming impact of the mix of rum and coffee makes it the perfect drink for a cold, rainy day when warm beaches and soft sands are playing in your mind on repeat.
Coffee-Direct's rum flavoured coffee combines full-bodied Colombian beans and sweet Carribean rum to create a blissful coffee blend. The rich, spiced and mild chocolate flavours of the rum mix with the high-impact coffee to create a delicious all-day drink.
Equipment
1 cafetière
1 kettle
1 bowl
1 mug or heat proof glass
Ingredients
2 tablespoons coffee grounds
125ml boiling water
2 tablespoons of butter
30g of brown sugar
30ml dark rum
1 teaspoon cinnamon
½ teaspoon grated nutmeg
½ teaspoon ground ginger
Whipped cream (optional)
Recipe
In a bowl, mix together the butter, sugar, cinnamon, nutmeg and ginger until you have a smooth consistency of spiced butter.

Set in the fridge and leave for 15-25 minutes, until chilled.
Add two tablespoons of coffee grounds to your cafetière.
Pour 125ml boiling water into your cafetière and place the lid on top.

Leave coffee to brew for four minutes.
Spoon the spiced butter into your mug or glass.

Pour 30ml of dark rum over the butter.

Press the coffee once brewed and pour over the rum and butter.

Stir the mixture together until it is all combined. If using, layer whipped cream over the top of the coffee.

Serve and enjoy.
Quick Links
Related products
As Featured In
Our recipes and coffee tips have been featured in the following publications:
---