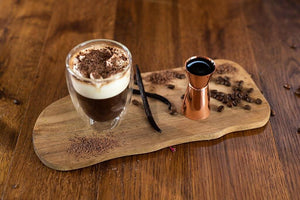 Tia Maria Coffee Recipe
Tia Maria is an ideal alcohol addition to a typical coffee and this recipe makes sure to combine the best of both Tia Maria and your favourite coffee ground to create a deliciously sweet and thick coffee experience. Tia Maria coffee makes for a brilliant dessert drink or a sneaky mid-weekend pick-me-up.
As a dark liqueur typically made using Jamaican coffee beans, Tia Maria is a natural choice to add to a mug of well-brewed coffee as the flavours are organically similar and so will sit alongside one another beautifully.
The added rum, vanilla, sugar and other spices in Tia Maria give it a delightful kick that adds a bit of spice to your average mug of coffee.
Used in cocktails worldwide, Tia Maria is a great addition to your coffee because it works so well as an after-dinner drink, or served as a stand-alone mug. The amount of variety you can add to this Tia Maria coffee recipe is limitless, allowing you to perfect your dream Tia Maria coffee.
Coffee-Direct's Tia Maria flavoured blend combines the sweet, fragrant flavours of the Jamaican liqueur with a smooth, mild coffee, allowing you to make a delicious mug of Tia Maria coffee without the excess ingredients or the added time.
This flavoured coffee allows you to make a well-adored drink in minutes and still keep the original delicious flavours.
Equipment
1 cafetière
1 kettle
1 teaspoon
1 mug or heat proof glass
Ingredients
2 tablespoons coffee grounds
125ml boiling water
30ml Tia Maria
50ml single cream
Chocolate shavings (optional)
Whipped cream (optional)
Recipe
Add two tablespoons of coffee grounds to your cafetière.
Pour 125ml boiling water into your cafetière and place the lid on top.

Leave coffee to brew for four minutes.
Heat your mug or glass in the microwave for 20-30 seconds.

Pour 30ml of Tia Maria into your mug or glass.

Press the coffee once brewed and pour over the Tia Maria, leaving room at the top of the mug or glass for the cream.

Over the back of a teaspoon, drizzle the cream over the coffee so that it rests at the top of the drink.

If using, layer whipped cream on top of the single cream.
If using, sprinkle the chocolate shavings over the top of the whipped or single cream.

Serve and enjoy.
Quick Links
Related products
As Featured In
Our recipes and coffee tips have been featured in the following publications:
---