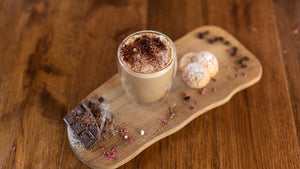 Cappuccino Coffee Recipe
Cappuccino coffee is adored internationally by many coffee drinkers. This foamy, light coffee is simplicity done right; offering drinkers a sharp kick of deliciously brewed coffee that can be made quickly and easily.
Cappuccino coffee doesn't require lots of ingredients or even fancy equipment, instead it forces the focus onto the key element of any good coffee drink - the coffee itself.
This cappuccino coffee recipe takes inspiration from the original Italian roots of the drink and splits the process into two sections. You've got the brewing of the delicious coffee and the lightness of the foamed milk, which sits atop the coffee's base.
You can substitute cream for milk if you prefer a thicker and sweeter taste, but be cautious of the measurements, as you may not need as much cream as you would need milk.
If you really want to embellish your cappuccino coffee then you can even sprinkle some chocolate shavings, some cinnamon powder or cocoa powder, across the top of the foamed milk for an additional touch of sweetness.
The cappuccino doesn't typically need these garnishes as it is a drink that is fundamentally simple and loved for the easiness of flavour and technique. It's also a much quicker drink than that of a latte or a mocha, so don't go overboard if preparing this recipe for friends or family; in the case of the cappuccino, less is more.
Coffee-Direct's cappuccino flavoured coffee contains all the great flavours of the traditional Italian drink, but doesn't include the traditional steamed milk foam. This mild blend is therefore great for coffee drinkers who want to skip the milk element or fancy the loved flavours of a cappuccino in a more concentrated dose than a milkier coffee.
Coffee-Direct's flavoured coffee blend is fragrant and packed full of flavour, giving an incredible drinking experience with no fuss and no unnecessary add-ons.
Equipment
1 cafetière
1 kettle
1 saucepan
1 whisk
1 mug or heat proof glass
Ingredients
2 tablespoons coffee grounds
125ml boiling water
240ml milk
Recipe
Add two tablespoons of coffee grounds to your cafetière.

Pour 125ml boiling water into your cafetière and place the lid on top.
Leave coffee to brew for four minutes.
Whilst coffee is brewing, pour your milk into a saucepan and warm through on low heat. Do not boil.
When the milk is heated, remove from heat. Whisk the heated milk until the milk is frothy and light.
Press the coffee once brewed and pour into your mug or glass.

Spoon the frothed milk on top of the coffee.

Serve and enjoy.
Quick Links
Related products
As Featured In
Our recipes and coffee tips have been featured in the following publications:
---